Synopsis
The Pandoran war machine ravaged the galaxy, driving the human race to the brink of destruction. Seven men and women stood in its way. This is their story.
(Note: this book contains all three novels in the trilogy - The Honour of the Knights (Second Edition), The Third Side, and The Attribute of the Strong. It is not a fourth novel.)
Where to Buy
The Honour of the Knights (Second Edition) is an eBook novel, available to purchase from retailers listed below:
Amazon Kindle
Amazon US • Amazon CA • Amazon UK • Amazon DE • Amazon FR • Amazon ES • Amazon IT
Covers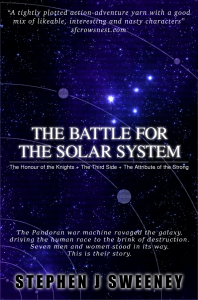 First Edition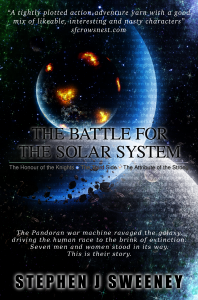 Unused Version
The cover depicts the planetary orbits of the Solar System. Mercury, Venus, Earth and Mars' orbits can be seen in the bottom left-hand corner, with Jupiter and Saturn more or less central in the view. The five bright flashes reference the results of the Tachyon Star Bombs, that were never deployed. The unused cover is a amalgamation of the three covers of each book in the trilogy. It is a little more eye-catching, but it is also too busy.

Novel Information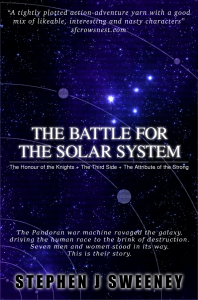 Title: The Battle for the Solar System
Series: -
Series Number: -
Publication Date: December 2012

Ebook
+ Format: Kindle, iBook, ePub
+ Length: 454,000 words
+ ISBN 13: 9780955856150
+ ISBN 10: 0955856159


Excerpts
The first three chapters of the novel, downloadable HTML format.
HTML - 222KB
(Last Updated : 18th December 2018)
Sample chapters are also available from most eBook retailers where the novel is sold.